We recently discussed about the hotly debated topic of Selective En Bloc Redevelopment Scheme (SERS) following the recent SERS at Ang Mo Kio Ave 3 and Marsiling Crescent. For existing SERS homeowners, we shared tips on financing the replacement home under SERS.
In this article, we dive deeper into the topic of SERS and what the saga holds for all of us as current (or future) HDB owners.
1. SERS Is Still A "Windfall" For Lucky Owners
The headlines for the whole Ang Mo Kio Ave 3 SERS saga has been the pain point of topping up for a "similar sized" HDB flat. And to make things worse, it is in a location that is less (not more) convenient. This has led many to dub SERS as a headache, rather than a windfall. This was a start contrast to the perspective that many held about SERS just months ago.
So, is SERS really still a windfall for lucky owners?
| Flat Type | Size | Compensation from HDB |
| --- | --- | --- |
| 3-Room | 68 sqm | $329,800 - $386,000 |
| 3-Room | 82 sqm | $397,400 - $475,700 |
| 4-Room | 92/93 sqm | $427,300 - $498,400 |
Source: HDB
For 3-room flats, the selling price of resale flats ranged between $230,000 to $338,000 in the last 5 years. The compensation from HDB seems to be above the market price for the 3-room flats with SERS homeowners getting as high as $390,000.
For 4-room flats, the range seems largely in line with the transactions that took place in 2021. Compared to the lowest transaction value in the last 5 years ($360,000), the offer price from HDB is priced at ~10% premium.
Thus, if we compare the price to HDB resale transactions at blocks 562 to 564 Ang Mo Kio Ave 3, we can observe that the price that HDB offered is not only in line with the market price, but even above the market price for certain flat types.
2. Shrinkflation Is Real
One of the other grievance from existing SERS homeowners is the need to top up additional cash or CPF in order to buy a new BTO of a similar size to their existing flat. Shouldn't it be a one-for-one replacement? There are two reasons for this: Shrinkflation and lease decay. Since we will cover lease decay in the next point, let's first focus on the shrinkflation. Shrinkflation is an economic term coined by economist Pippa Malmgren to describe the practice of reducing the size or quantity of a product while the price of the product remains the same.
Indeed, if you look at HDB flats in Singapore, shrinkflation is very real. According to an analysis done by Teolida, the average size of HDBs in the 1990s was 120 sqm. Today, it is 90 sqm if you were to apply for a BTO. Before we all start complaining about the Singapore government, let's be mindful that the issue of shrinking homes is not a problem that is unique to us.
Shrinkflation for properties is a trend that major cities around the world are grappling with. Another factor to consider is that family units nowadays are comparably smaller than in the past. Thus, the living space per person (measured by sqm per person) isn't affected as much. According to one source, the living space per person in Singapore is 270 sqft or 25 sqm.
So, if you have a bigger family unit or feel that you need more personal space, the solution is to go for a bigger flat size (for new gen HDB flats) or go for an older flat. Both will cost you more as a homeowner, thus you might want to engage a mortgage broker like Mortgage Master to help owning a bigger home more affordable. Mortgage Master can help you source for better deals on your mortgage loan so that owning a bigger HDB flat is a breeze for you.
3. Lease Decay Is Still A Key Factor For HDB Valuation
The lease decay problem for HDB is not an unfamiliar one for Singaporeans. The Ang Mo Kio Ave 3 SERS saga has definitely, once again, rekindled public interest in the topic.
When HDB communicated the outcome of SERS to Ang Mo Kio Ave 3 residents, they emphasised that the top up that many were unhappy about was reasonable. That's because the residents are getting an HDB with a fresh 99-year lease.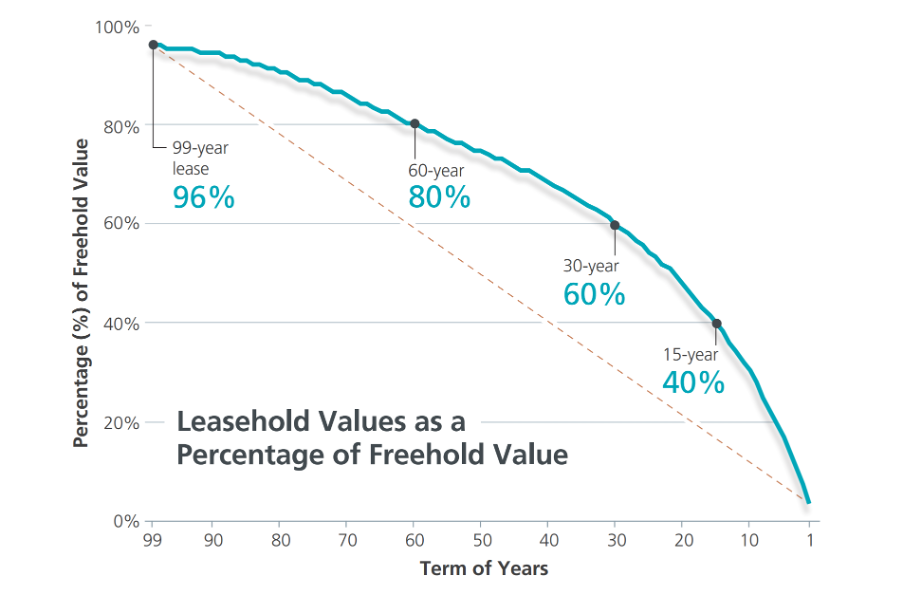 Image Credit: Juan Velasco, Centre for Liveable Cities
This is exemplified by Bala's Table, the traditional nickname for the Singapore Land Authority (SLA) Leasehold Table. The valuation of an HDB decays exponentially, which means that valuation of older flats will be much faster compared to young flats with fresh lease. Therefore, when HDB decided on the compensation, it took this into account.
4. What Will Happen To VERS?
A BIG question mark in HDB owner minds will be the Voluntary Early Redevelopment Scheme (VERS) that was announced by PM Lee at the 2018 National Day Rally. Older housing estates will be renewed and compensation will be provided for homeowners that are opting for VERS. But how much will you be compensated for?
In the case of SERS, which only happens to 4% of HDB flats and was not voluntary, there was a premium in the price that HDB compensated to homeowners. Will that be the same case for VERS? It's probably wise not to have too much hope about getting a similar kind of compensation for VERS, especially if you have less than 15 years of lease left.
5. Be Wary About Buying Homes With Short Lease
As much as we would like to treat older HDB flats like any other flat, they aren't the same in the eyes of HDB. More importantly, they are also not the same in the eyes of banks that are approving your bank loan. If the flat doesn't last you till you are 95 years old, your loan-to-value (LTV) on bank loan will be affected.
If you are planning to buy an HDB with a shorter lease, it is recommended to engage a mortgage broker. You will need a mortgage broker like Mortgage Master to broker a good financing deal for you.
At Mortgage Master, we know the latest home loan packages in the market and sometimes can even offer exclusive interest rate packages that you cannot get directly from the bank. If you're looking to purchase a new property, or refinance your existing home loan, fill up our enquiry form and our mortgage consultants will follow up with a call.