Holy hell it's already August?!

2021 really is just flying by isn't it.

But alas, we've reached the 8th month of the year. And for us, August SCREAMS Singapore.
National Day, Flags hanging out on windows, The nation collectively working to attain the vaccination target.

But really, nothing screams SINGAPORE in August quite like another BTO launch.
Prepare your Singpass-es, whip out your $10 and put on your reading glasses for some intensive reading, cause it's BTO time again baby.
If you wanna read up on the guides for the other sites in this launch,
As usual, if you need a reference for the Tampines site map, I got you.
Smaller lot
Bigger lot
Content Page
Tampines August'21
Units Available
Prices
Street
Transport
Amenities
Places of Worship
Education
How much can you earn if you sell this BTO?
Ah yes, the East representative has arrived. With the Tampines BTO, this only leaves the north without any BTOs for this launch.

With the name originally derived from Tempinis, meaning Ironwood trees because of its abundance back in the day, Tampines has overseen a huge transformation that started wayyyy back in the late 1970s.

I think more than anything, I'm still kinda surprised that there are plots of land in Tampines for BTOs?? Like, Tampines in my head is already an established town that's been capped out, given that it's the 3rd most populated new town in Singapore.

That being said, Tampines remains the heart of the East, with many people who are even non-Easties flocking over to find out why people are saying East Side Best Side.

Ky-stradamus's BTO Name Prediction
What I think it'll be called: Tampines GreenJewel, Tampines GreenCrystal, Tampines GreenSparkle or sth lame like that
What I want it to be called: Tampinés LeafGreen
What it's actually called: Tampines GreenJade and Tampines GreenQuartz
That being said, let's get into the nitty gritty


Back to top
This upcoming sale has 2 different plots, 1 smaller plot right beside Temasek Poly and another bigger one opposite it.

However, compared to the Hougang BTO guide, I'm not going to separate these 2 lots because they're really close to each other and basically have the same access to everything, unlike the 2 lots in Kovan.

The smaller lot has 546 units available, with a mixture of 4-rm and 5-rm.
The bigger lot has 1613 units available, with a mixture of 2-rm, 3-rm, 4-rm and 5-rm.

Fyi; for those who are unaware about sales with multiple plots, you can't choose which plot to bid for. The bidding process works as per normal, you get a queue ticket number, and you get to choose out of the 2159 units.

Find out more: The different types of houses in Singapore
Both lots are situated to be along Bedok Reservoir Road and the upcoming Tampines Street 95/96.
The junction before Tamp West MRT Station can get congested especially during peak hours, so do take note of that.
On a side note, some of those who get a unit in the smaller lot will also be facing Bedok Canal.
Both lots are within a 10min walking distance to Tampines West MRT Station. Alternatively, you could also take a 12min walk to Bedok Reservoir MRT Station, in case your carousell seller wants to meet up there instead.

Both lots also have a bus stop at their doorstep that currently serves at least 12 bus services to places such as Bukit Merah, AMK and Harbourfront. Plus, you get bus 69, so you're already leading everyone else in terms of bus services.

But probably the most important for residents will be the easy access to the PIE. An entrance to the expressway is just a 5 min drive away

This BTO is surrounded by other blocks of flats, a polytechnic campus, and a drain, so you're not exactly in the heart of a town. What's good is that you're close to Tamp West MRT, which is just 1 stop away from Tampines where all the shopping malls lie.
There are quite a few amenities I'll be covering here so let's separate them into categories.

If you wanna get together and gooooooooooooooooo …
.... there are a few options available.

Following in the footsteps of the Geylang BTO in May, this Tampines BTO also has a cluster of malls 1 train stop away.

Also, if you don't stay in the Tampines area, this is probably the area where you'll get super confused on where is where.
(like why even go to escape rooms when you can just come to the mall cluster at Tampines??)

The 3 malls here are Tampines One, Century Square and Tampines Mall

Tamp One is arguably the most simple among the 3 malls. It has everything you need in terms of basic amenities. It's like the family/heartland mall of that cluster.

Century Square is a slight upgrade from that, with it having the basic stores + Filmgarde to watch movies, + Footlocker for shoes, and + Hai Di Lao for when you wanna get serviced.

Lastly, Tamp Mall completes the trio by providing whats lacking in the other 2 malls, specifically in the department store and entertainment aspect. What sets it apart are stores like Decathlon, Isetan, Cow Play Cow Moo, and most importantly, (the best fast food chain) ... Long John Silvers.
Right beside this trio of malls is Our Tampines Hub, a facility that offers wayyy different things.
For those of you who may not know about Tamp Hub, it's basically the go-to place for students who stay in the East to "overnight study".

And for once, I didn't mean it in a sexual context but legitimately students just go there, open their notes and highlighters, and 10 mins later they're gossiping/playing games. But yes, those were simpler times :')

There's also the library, sports complex, swimming complex and an HDB branch office under the same roof.

Additionally, there is a HomeTeamNS in Tamp Hub, home to the first indoor climbing theme park in Singapore, more sports options like bowling, futsal and billiards at SAFRA Tampines, and badminton/basketball courts at Tamp West CC.


Onto healthcare, regardless of whether you've taken fries-her, moderna family, sino🅱️ac or none (not judging, it's a safe space), COVID and general illnesses are still rampant (especially in this hot-ass weather).
Fret not, you're a 4 min drive away from Changi General Hospital. After checking their wikipedia having done intensive research, they offer more than 23 healthcare services that specialises in sports medicine, diabetes and geriatric care.

With the town slowly getting built, don't be surprised if the new roads can cut travelling time down even more.
Furthermore, according to the URA Master Plan, there seems to be 2 proposed healthcare facilities that are going to be built in the neighbourhood. While this remains uncertain as to what it will turn out to be, it could range from dental clinics to polyclinics (doubt so tbh) to veterinary clinics.
If you're a bit paranoid about living so close to Bedok Reservoir, this Tampines BTO launch skews towards the Chinese population with 2-3 Chinese temples, 2 churches and blackpink in the area.
The closest mosque I could find was near Tamp Hub, and another one closer to Bedok. Both are about a 5 min drive away.
The closest Hindu temple I could find was in Changi.

However, there are 2 proposed places of worship that's coming up in the years to come, so hopefully those help with the geographic distribution of mosques and Hindu/Sikh temples.

Also, for Buddhists who practice Nichiren Buddhism, there is a Singapore Soka Association branch just adjacent to your neighbourhood.
Apart from the few that I've listed in the infographic above, I'll just mention an upcoming school that will be near this BTO.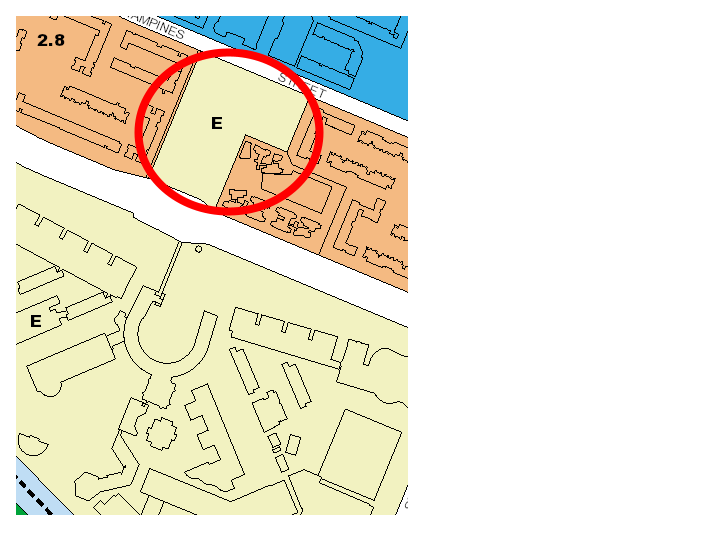 According to the URA Master Plan, there seems to be a new school compound opposite Temasek Poly.
The current space is Play@West, which is like a community play area for all ages, having playgrounds, basketball courts, a running track, a fitness corner etc.

I have some insider information, and by that I mean a friend who stays near play@west, that it's actually relatively new, so maybe the current plan is to build a new school, but actual construction will only begin in a few years time.

Secondly, there's going to be a new Pathlight campus next to Junyuan Primary. It will be built over the lot previously occupied by East View Primary.

From the article, it's reported that this is to help curb the demand and ease access to people who don't stay near AMK (the current campus of Pathlight).


Back to top
Firstly, I know there are some people who just scrolled down to this portion so, Hey! Welcome.

Secondly, obligatory disclaimer,

I'm not forcing you to sell your house.
I'm just sharing some info with you because I think it's your right to know about this before choosing a BTO location ...... (also cause just in case a Karen wants to find me in 5 years time.)
When it comes to looking at when's the best time to sell your house for maximum profit, the core concept here is the Minimum Occupation Period (MOP).
Simply put, when you buy a house, you need to stay in it for at least 5 years before you can sell it.
This one Gahmen say one, not me.

For example, if you sell your Bishan/Novena house after clearing that 5 year mark, you'll tend to get a really good price back because Bishan/Novena properties are in a good location (central, developed, matured)


For this Tampines BTO, it's whatever the opposite of bussin' is.


Aka, for those who don't use tiktok, it's not looking that good, unfortunately.

Again, 'not looking that good' in this context means that you won't make so much of a profit as compared to other BTOs like Queenstown and potentially Hougang.

This is what I think the BTO lifespan for the Tampines BTO will look like.

The first rise in #1 is common in all BTOs. Since it's subsidized public housing, it starts below market price, and slowly gravitates towards the market value after 5 years, the period in which you can sell it.

The area in X is the one that you should really be looking out for.

The thing about Tampines is that, it's neither here nor there.

It's like Singapore trying to decide which phase it really wants to be in.
While it's considered a mature estate, it doesn't fetch the prices of other mature estates like kallang/geylang/bishan because of its lack of centrality in its location.

Most mature estates are also already developed. You're already staying next to a huge campus that is Temasek Poly, you have a huge reservoir opposite you that is Bedok Reservoir …. you can only have so much development in the foreseeable future y'know.

But that's the thing, it's only for the foreseeable future. Who knows, maybe the next URA Master Plan that will come out in 2024-ish may present a new development idea that will affect the price of your property.
For example, if Tamp West MRT becomes a duo-line train station, or Bedok Reservoir opens a water sports centre, it's these kind of things that will help with increasing the value of your unit.
What I'm trying to say is, this only looks bleak now. So just be on the lookout for development plans in the future.


Ultimately, those who are looking at BTOs as actual BTOs, a home where you can start and build your family, raise your children, the Tampines BTO is a family-centric BTO. You're still staying next to a MRT Station, you have everything you need within 1 train stop, you have a hospital nearby, you're next to the PIE … not a huge portion of the population can say that they have all these with their homes.


Tl;dr - Stop comparing Tamp to Queenstown/Kallang if you're doing it. It's not supposed to be that kind of unit. This BTO is for young families, hence why there is at least 3x the number of units compared Queenstown/Kallang. In any other launch, Tamp honestly will stand out as one of the best, it's just unfortunate that it's being overshadowed by the hype for the other sales. If you're looking for a home (which should be the point of a BTO anw!!!), this Tamp BTO and it's massive 2140 units will be the option you can rely on.