"If Simpang becomes a recreational island, I'm calling out all my Isssslaaaaaand BoyeeeEeeEs "
New year, new system.
To help you better compare between the different sales in this launch, we're introducing a new ranking system.
⭐⭐⭐⭐⭐ = good
⭐ = not as good

Sure, it's a bit subjective, but aren't all BTO guides subjective anyway?

Oh btw, don't you know you stand a ✨better chance at securing a BTO ✨if you subscribed to our telegram channel? (for legal reasons, i'm joking)



Guides for the other sites in this launch,

Content Page
Yishun Feb'22
Units Available
Price & Affordability
Transport
Education
Amenities
How much can you earn if you sell this BTO?

Finally the time has come. After having written 20+ BTO guides, the Yishun boy is writing an Yishun one. So, apologies in advance if I do come off a lil bias in some areas, I'll do my best to remain objective.
Although being so on-the-edge of Yishun that driving to Canberra might actually be quicker, this Yishun BTO is the first one in 4 years. We take what we can.

BTO Name Prediction:
Yishun RiverCourt / Rivergrove @ Yishun / River Spring @ Yishun / Edgegrove Breeze @ Yishun

Actual name:


Back to top
There are 2 lots of units available, both offering 2-rm flexis, 3-rm, 4-rm & 5-rms. The smaller lot offers 852 units, while the bigger lot offers 987 units.

Given that it's right next to each other, it's essentially a sale for 1839 units.

Find out more: The different types of houses in Singapore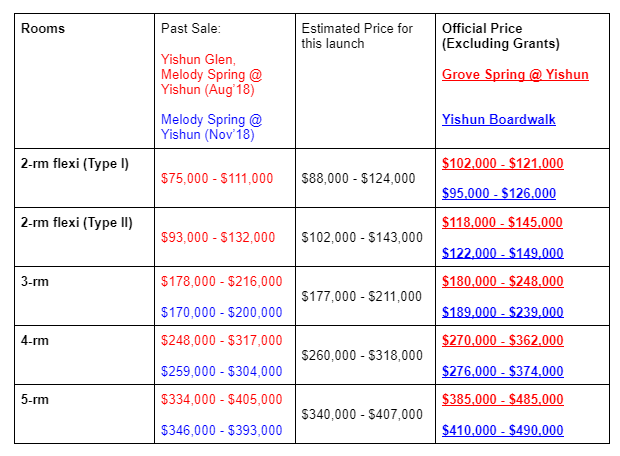 Prices used were the highest amount predicted
15% Downpayment was used for HDB loans, for a max of 25 years
25% Downpayment was used for Bank loans, for a max of 30 years
Bank loans were excluded for 2-rm flexis since banks don't commonly finance 2-rms


Back to top

MRT - Yishun MRT, Canberra MRT
Bus - Currently no designated bus stop, nearest about 5 mins walk away
Drive - 10 mins drive away from SLE, TPE

Rating - ⭐ (for now)
Ugh, I hate to say it, but the transport situation for this BTO is currently quite substandard. There is not much accessibility to MRTs, there's not even much accessibility to buses to take to MRTs. If you were to move in right now as you're reading this, not having a personal vehicle will feel like a real setback.
The only real saving grace here is that it's a relatively straight road from this BTO to enter the SLE or TPE.

Now, that's not saying it'll stay like this. From personal experience, there have been new bus services in Yishun that were introduced to cater to the new residents (eg. 803, 860, 807, 805 in the last 8 years). Given that this BTO is also along the stretch that leads into Canberra, it's a pretty safe bet that there will be new bus services in the future.
Rating - ⭐⭐⭐⭐

There are many schools in the area of Yishun, including some of the leading primary schools in Singapore. Chongfu (ranked 19th) and Northland Primary (ranked 21st) are about 10 mins away.
For context; I'm a Northland alumni and the rivalry between these 2 schools was already present when I was there (that was in 2003!!!). And yes, I'm also mad we're second.

Childcares, secondary and even tertiary institutions are abundant, being just a couple of MRT stops away from Nanyang Poly, ITE College Central and Yishun-Innova JC.
However, there are no future plans for any new schools to be built in the vicinity of this BTO (right beside the block for example). Additionally, all the schools mentioned do require some form of travelling, even if there is a straight bus.
Rating - ⭐⭐⭐⭐

Given that Yishun is the 7th most populated town in Singapore, it shouldn't come as a surprise that there are tons of amenities in the area to serve the 201,000-strong estate.

For shopping needs, there are neighbourhood shopping malls such as Junction 9, Wisteria Mall and Canberra Plaza for your grocery/self-care/everyday needs. For anything more than that, Northpoint City has you covered. Just remember to go during non-peak hours (if TT is still a thing then) because queue times to enter the mall are literally disgusting.

For healthcare needs, there are more than sufficient facilities in the area to cater to medical needs. Not only is there Khoo Teck Puat Hospital, but there's also Yishun Polyclinic, among the many neighbourhood clinics that scatter around Yishun. If that's not enough, Khatib Polyclinic is currently under construction.

For leisure needs, the most notable amenity would probably be SAFRA, which has all the usual stuff that a SAFRA offers. Travel a bit further out and there's ORTO (prawning, paintball, trampoline park) and HomeTeamNS@Khatib (indoor adventure hub, airsoft). Alternatively, you can kayak right opposite this BTO at Sungei Khatib Bongsu Park.

The reason for the imperfect score is because there doesn't seem to be much future development in the area, as of now at least, but I'll cover more of that in the next section.
If you're neurotic like me and think everything is a competition and want to know if this BTO will be the most "value"/"worth it", this may be useful for you.

When it comes to looking at when's the best time to sell your house for maximum profit, the core concept here is the Minimum Occupation Period (MOP).
Simply put, when you buy a house, you need to stay in it for at least 5 years before you can sell it.
This one Gahmen say one

Obligatory disclaimer, everything written below is completely my own opinion.

Here's what I think the BTO lifespan for the Yishun BTO will look like.
Upside - ⭐⭐⭐ (potentially)
As I mentioned, there aren't many plans for development as of now, simply because Yishun itself is already quite developed, to the point where cows are a sight in common spaces. However, what we're hoping for won't occur in Yishun, but near it.

The first rise in #1 is common in all BTOs. Since it's subsidized public housing, it starts below market price, then slowly gravitates towards the market value after 5 years.

In Area X, this is where it gets a little bit tricky.
If nothing changes, don't expect that much of a rise. This BTO location is pretty far from an MRT station, it's not in direct access to any of the amenities, plus it doesn't exactly help that Singaporeans view Yishun as the ghetto of Singapore.

However, if plans are set in motion for Simpang, you may see some fortunes in years to come

Simpang, for those of you who may not know, is that big, island-y, swampy area above this BTO, that's almost the same size as Yishun.

It's currently being used as a training ground for our soldiers, but plans of transforming it into a residential area, or a New Town, have been in the works since the 80s/90s. This puts Simpang as Punggol version 1.0, and would have been the predecessor to new towns like the aforementioned Punggol and Tengah.

Simpang currently has an area of 700 hectares, . In my opinion and my opinion only, I don't think HDB will transform the entire land into housing blocks (cause of social media complaints, jk but not rly). That said, they have the availability of the 2 off-shore islands.

Don't they seem like the perfect platforms to have water-based/island-based activities?

Of course I'm just spitballing here, but if that does happen, think of Simpang as potentially becoming a Sentosa in the North. And if HDB does decide to pull the trigger on developing this town, the Yishun BTO will act as a connector. This puts this BTO as a "link" to the "island of Simpang".

As of now, we are also unaware what kind of houses will be built in Simpang. If it turns out to be EC/Condos, this Yishun BTO will generate demand by becoming the closest affordable housing option closest to Simpang.

Again, I'd just like to bring everyone back down to Earth and reiterate that this is the best case scenario for this, and only time will tell if they finally decide to execute this plan that has been in the works for 30 years now.

Lastly, the regression in #2 is the slow decline that every HDB unit faces as it winds down to the end of its 99-year lease.
Summary:
12/20⭐
Nothing fancy about this BTO. People demanded houses, houses were given.
This BTO is perfect for families who plan to have children, because of the availability of bigger-sized flats. The biggest plus point is that these units are slated to be very affordable, especially when homebuyers will get immediate access to the amenities, albeit having to travel about 10 mins.
If you're looking for something not that inexpensive (when it comes to housing), having the space, and not having to live in the West (aka Tengah), or if you're purchasing it as a single, this is the ideal location for this launch.
For any questions/feedback/makan recommendations, email me - kyler@mortgagemaster.com.sg
Stay safe y'all.