UPDATE 16 December 2021: Almost exactly 10 months since this article was published, the cooling measures have finally been announced.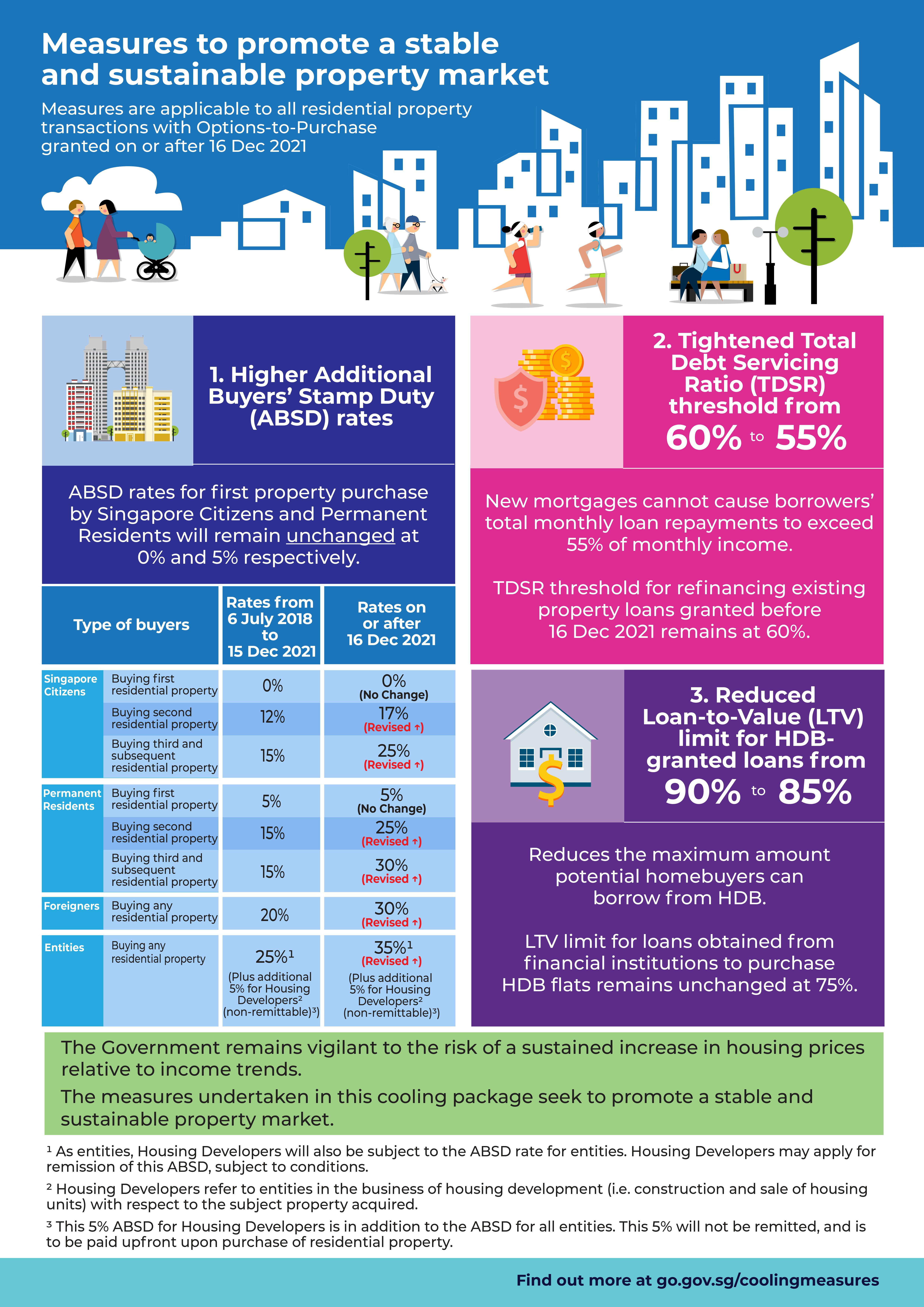 If you want to know more, we've done an in-depth analysis of these changes!
ORIGINAL ARTICLE BELOW: There is talk on the ground that new property cooling measures are about to be introduced, as early as this afternoon's Budget 2021 announcement.
DPM Heng commented that the government is watching the property market closely to ensure that the markets remain stable. Urban Redevelopment Authority (URA) has also been probing into property agents' commission. Last but not least, we have the Business Times asking questions about new cooling measures just before the Budget.
Are we on the cusp of new property cooling measures? And if so, what kind of property cooling measures can we expect? Perhaps we can take reference from past and current cooling measures to give us insight into what might come from the authorities.
Property Cooling Measures (Past and Present)
1. 2011 – 2018: Additional Buyer Stamp Duty (ABSD)
The ABSD was first introduced in 2011 to tax those who own multiple properties. The ABSD rates have since been revised twice in 2013 and 2018.
Today, you need to pay at least 12% ABSD to own a first (for PR) or second property (for Singaporeans). The more properties you own, the more ABSD you have to pay. Plus, the ABSD is an ad valorem tax (which means tax based on property value) that needs to be paid upfront in cash, which restricts homebuyers with little liquidity from overleveraging.
Additional Buyer Stamp Duty (ABSD)
From 8 Dec 2011 to 11 Jan 2013
From 12 Jan 2013 to 5 Jul 2018
From 6 Jul 2018 onwards
Singapore Citizens (SC)
SC buying 1st residential property
Not applicable
Not applicable
Not applicable
SC buying 2nd residential property
Not applicable
7%
12%
SC buying 3rd and subsequent residential property
3%
10%
15%
Singapore Permanent Resident (SPR)
SPR buying 1st residential property
Not applicable
5%
5%
SPR buying 2nd and subsequent residential property
3%
10%
15%
Foreigners
Foreigners buying any residential property
10%
15%
20%
Entities
Entities buying any residential property
10%
15%
25%
plus additional 5% for housing developers (non-remittable)
2. 2010 – 2017: Seller Stamp Duty (SSD)
Along with the introduction of the ABSD, the authorities also began raising the holding period for the Seller Stamp Duty (SSD). The SSD was first introduced back in 2010 to encourage homeowners to hold onto their property for a longer period instead of flipping it early. It has been revised several times since - in 30 August 2010, 13 January 2011, and 10 March 2017.
Seller Stamp Duty (SSD) Rate Payable based on Date of Purchase
From 20 Feb 2010 to 29 Aug 2010
From 30 Aug 2010 to 13 Jan 2011
From 14 Jan 2011 to 10 Mar 2017
From 11 Mar 2017 onwards
≤ 1 year
1% on first $180,000
2% on next $180,000
3% on remainder
≤ 1 year
1% on first $180,000
2% on next $180,000
3% on remainder
≤ 1 year
16%
≤ 1 year
12%
> 1 year
No SSD payable
> 1 year and ≤ 2 years
0.67% on first $180,000
1.33% on next $180,000
2% on remainder
> 1 year and ≤ 2 years
12%
> 1 year and ≤ 2 years
8%
> 2 years and ≤ 3 years
0.33% on first $180,000
0.67% on next $180,000
1% on remainder
> 2 years and ≤ 3 years
8%
> 2 years and ≤ 3 years
4%
> 3 years
No SSD payable
> 3 years and ≤ 4 years
4%
> 3 years
No SSD payable
> 4 years
No SSD payable
3. 2013: Loan Servicing Ratio (TDSR & MSR)
Most homebuyers finance their homes with a housing loan from either the HDB or banks. Thus, one way to curb homebuying is to raise the bar for obtaining a mortgage from HDB or banks so that only creditworthy Singaporeans/PR can finance and buy their homes.
In 2013, the Monetary Authority of Singapore (MAS) introduced the Total Debt Servicing Ratio (TDSR) and Mortgage Servicing Ratio (MSR).
• TDSR: You can loan up to 60% of your total household monthly income. This applies for all private properties • MSR: You can loan up to 30% of your total household monthly income. This applies for ECs and HDBs • If you have any existing loan (e.g. car loan, credit card loan), it will reduce the quantum that you can borrow from the bank.
The TDSR and MSR were implemented to prevent Singaporeans and PRs from overleveraging on their credit.
4. 2018: Loan-To-Value (LTV)
Loan-To-Value (LTV) is not exactly a property cooling measure in itself. It is a measure of how much you can borrow from the bank as a proportion of your property's value. To supplement the loan servicing ratios, the authorities changed the LTV ratio from 80% to 75% in 2018.
The change in LTV ratio means that those who are buying properties can only loan up to 75% from banks. This is essentially targeted at those who are buying private properties. With the change in LTV, homebuyers will have to fork out more cash/CPF as downpayment for their property purchase.
Impact Of Property Cooling Measures On Property Price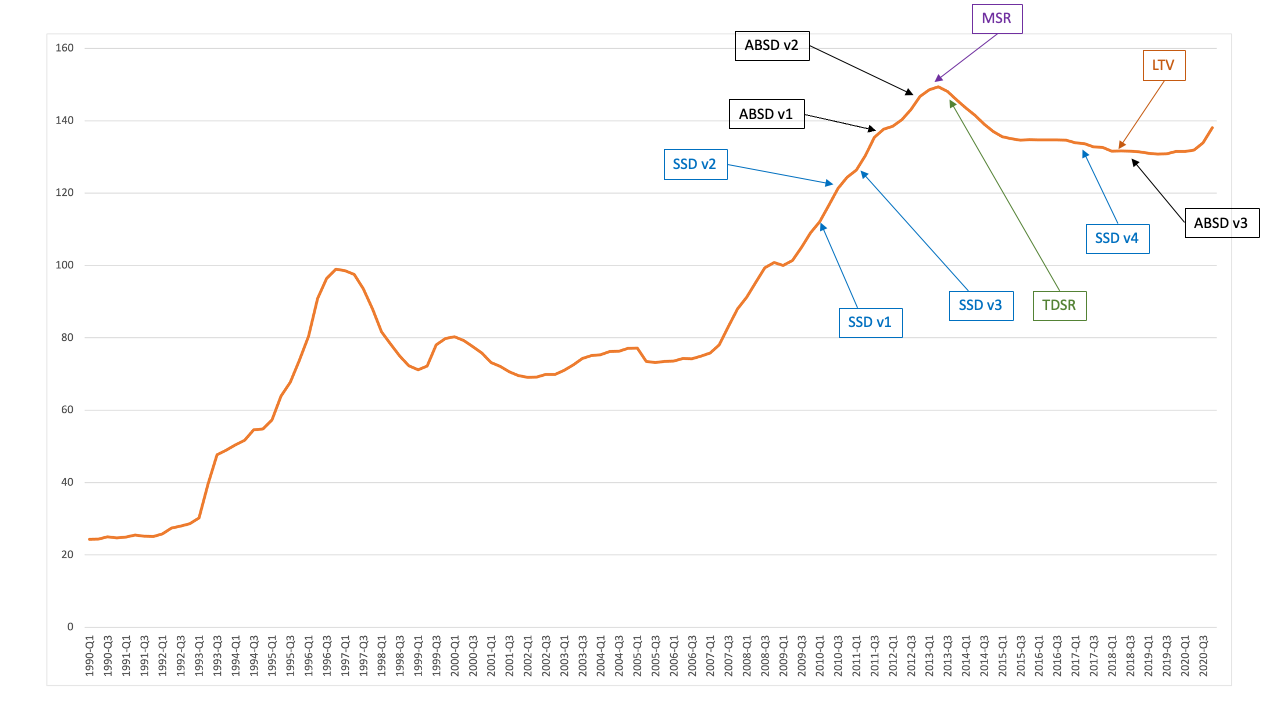 Source: data.gov.sg (with additional annotation by Mortgage Master)
Were the property cooling measures effective? Well, based on the property price index, appears that they are. However, the impact of property cooling measures is not immediate.
From the chart, we can see that the SSD didn't have much effect on property prices until version 1 of ABSD was introduced in late 2011. Following which, the ABSD had to be amended to version 2 together with the implementation of MSR and TDSR in 2013 for the climb in property prices to finally take a hiatus.
One conclusion we can draw from the chart is that it takes a couple of quarters before the market starts reeling in the effect of the newly introduced property cooling measure. And even then, Singapore's property price index is now almost at its highest point since independence.
Potential Property Cooling Measures That Could Be Introduced
1. More ABSD To Curb Demand
Looking at the trend of ABSD for the past decade, I can't help but think that ABSD rates could be raised once again to curb the overbuying of properties by cash-rich Singaporeans.
Raising the ABSD rates will be a knee jerk reaction to all the overbuying that has been happening in the market. After all, the current ABSD rates do make homebuyers think twice when considering whether to own multiple properties, which is something that the government will want to discourage.
2. Regulating How Much Agents Are Paid
Real estate agents are one of the key touchpoints between developers and homebuyers. They can sometimes be the deal maker/breaker between homebuyers and their next purchase.
Based on reports of URA looking into agents' commission, there are a couple of possible cooling measures that might be on the cards:
i. Capping agents' commission and their incentive to sell
The current market rate for new launch condos is around 1-3%. That's about $10k to $30k if the agent successfully pushes a $1M new launch condo to homebuyers.
I feel reining in agents' commission does reduce the incentive for them to sell and weed out those hard selling agents who are only there to earn the lucrative commission.
ii. Making developers declare their agents' commission
The truth is that the property market isn't the most transparent market. As a homebuyer, you don't even know how much your agent is being paid to tout the unit to you. While there are some market rate guidelines that you can take reference from, it is still a guideline.
One idea that the authorities might be toying with could be to make developers declare their commission for agents. Homebuyers can then make the call on whether your agent is genuinely here to help, or whether they are just there to earn that lucrative commission.
That said, these two things aren't mutually exclusive. There are many genuine agents out there that are looking out for homebuyers. We shouldn't let a few black sheep spoil the reputation of real estate agents.
3. Reduce Shoebox Units By Increasing Average Unit Size For New Developments
URA's existing regulations state that the average unit size at new non-landed residential projects outside the central region needs to be at least 85 sqm. There is a possibility that URA could raise the average unit size even further to discourage developers from building too many shoebox units.
There are a number of implications from such a measure which can correct the property market more than its intended effect. Firstly, lesser shoebox units will lead to lower affordability of condos for aspiring Singaporeans. Secondly, the change will not take effect so soon. It will only affect those developments that have yet to be approved. It doesn't allow for timely intervention of the property market in the short term.
How Will New Property Cooling Measures Affect Your Home Loan?
1. Lower Property Price = Less Interest Payable On Your Home Loan
Any new property cooling measures will dampen the buying spirit in the short term. Less homebuying demand will lead to a less overheated property market and lower property prices (at least in the short term).
The lower property prices will not only benefit genuine homebuyers with less outlay required for your new home, it will also translate to more savings for you on your home loan. The lower price quantum means that you will likely end up paying less interest on your home loan.
2. More Home Loan Perks From Banks?
If the property cooling measure(s) is a success, it will lead to less homebuying interest. This could lead to a lower supply of potential home loan customers for the banks.
As banks vie for more market share in a smaller pool of homebuyers, they might turn proactive and offer more home loan perks (e.g. lower interest rates, shorter lock-in period, more signup perks) to attract homebuyers to sign up with them.
At Mortgage Master, we know the latest home loan packages in the market and sometimes can even offer exclusive interest rate packages that you cannot get directly from the bank. If you're looking to purchase a new property, or refinance your existing home loan, fill up our enquiry form and our mortgage consultants will follow up with a call.