Alot of things have changed since I last saw you.

Mask-wearing is now optional, karaokes/clubs are opening right as I'm writing this article, and 'Pasar Malam' were the 2 words I'd never thought I'd hear again.

Just a shoutout to you for sticking through the tumultuous times, but you know HDB and ya' boi don't sleep despite the hardship, so here's the May'22 BTO Guide for Toa Payoh.
---

Before we begin,

If you're new here, we have a completely subjective, completely frivolous rating system,
it's just to help you make a better comparison between the different sales in this launch.

⭐⭐⭐⭐⭐ = good
⭐ = not as good

Again, it's completely up to the individual.
If I give education 5⭐ and you don't plan to have kids, it won't matter right?

🎙️ We run a weekly podcast where we talk about property concepts/news/jargon, and give tips for owning a house in Singapore.

📜 We also have a telegram channel because that's where all the cool kids are.

Follow us if you enjoy our content and a massive gamxia to you in advance.
---
Guides for the other sites in this May'22 BTO launch,
➡️Bukit Merah
➡️Jurong West
➡️Queenstown
➡️Yishun

Content Page
Toa Payoh May'22
Units Available
Price Breakdown
Transport
Education
Amenities
How much can you earn if you sell this BTO?
Too long ; didn't read
Fresh off the Kallang/Whampoa and Rochor sale, this Toa Payoh BTO will serve as the "prime, central, mature" estate for this launch.

If this isn't your first time bidding for a BTO, you would have probably seen the insane oversubscribed rate that these areas tend to get.

This Toa Payoh BTO … will be no different.

For context, the last Toa Payoh BTO in Nov 2020 had 3600 people applying for the 4-rm. If at least 300/380 units in this May sale is 4-rm, that still leaves a 12.0 application rate, meaning you'll be fighting with 11 other people for that 1 unit.

Pretty good demand for a place that literally translates to big swamp.
BTO Name Prediction: East Payoh Rise , Kim Keat Rise
Actual Name: Kim Keat Heights
There are a total of 380 units available, consisting of 2-rm flexis, 3-rms & 4-rms.

Do note that because Toa Payoh is a mature estate, the 2-rm flexis will most probably be offered only to seniors (aged >55)

A thing to take note is the plot ratio for this lot is 3.5.
This means that this lot is able to handle blocks with more than 36 storeys.

However, this remains to be seen if buildings of this height will be built.
Both Lorong 5 and Lorong 7 have plot ratios of 3.0, but Lorong 5 blocks are 20 storeys, while Lorong 7 blocks are 11.
Rooms
Past Sale(s):

Kim Keat Ripples/

Toa Payoh Ridge
Estimated Price for May'22 launch
Official Price
(Excluding Grants)
2 room flexi (Type I)
$90,000 $141,000

$94,000 - $146,000
$162,000 - $206,000
2 room flexi (Type II)
$109,000 - $184,000

$113,000 - $186,000
$215,000 - $263,000
3 room
$351,000 - $446,000

$360,000 - $478,000
$289,000 - $373,000
4 room
$395,000 - $666,000
$410,000 - $685,000
$420,000 - $559,000
Rooms
Price
HDB Loan (@2.6%)
Bank Loan (@1.5%)
2 room flexi (Type I)
$206,000
Min. Downpayment of $30,900

Monthly Installments of $794
-
2 room flexi (Type II)
$263,000
Min. Downpayment of $39,450

Monthly Installments of $1,014
-
3 room
$373,000
Min. Downpayment of $55,950

Monthly Installments of $1,438
Min. Downpayment of $93,250

Monthly Installments of $965
4 room
$559,000
Min. Downpayment of $83,850

Monthly Installments of $2,156
Min. Downpayment of $139,750

Monthly Installments of $1,447


Prices used were the highest amount predicted
15% Downpayment was used for HDB loans, for a max of 25 years
25% Downpayment was used for Bank loans, for a max of 30 years
Bank loans were excluded for 2-rm flexis since banks don't commonly finance 2-rms


Back to top

MRT - 10 mins walk to Braddell MRT Station
Bus - Toa Payoh Bus Interchange
Drive - 1 min drive from PIE & CTE
Rating - ⭐⭐⭐⭐
Not a typical rating I'd give for a BTO launch with not much access to public transport, but this Toa Payoh is one of those exceptions.

The train and bus situation is, with all due respect, meh. Braddell MRT Station, despite being the closest train station, is almost a kilometer away. The nearest bus stop (3 mins walk) also only currently has 2 bus services.

However, it's the accessibility to major, central highways that really boosts the score in my opinion. This BTO is just a minute drive away from both a PIE & CTE entry, opening up a commute to the town area in just 10 minutes. Plus, even if you don't own a vehicle, taking a private hire ride to the CBD area will just be as convenient.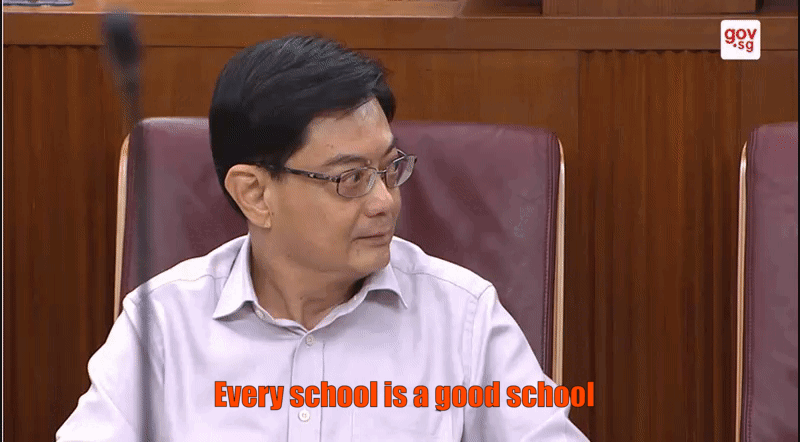 Rating - ⭐⭐⭐⭐
If you're completely ignoring the gif above, you might be glad to hear that there are notable, popular schools in the area. Schools like Pei Chun public school and St. Andrews secondary have long been in the "top 10 schools in Singapore" (if this matters to you).

For a developed area like Toa Payoh, there are actually quite a number of schools in the area, both that are within walking distance and a short drive away, allowing parents to have multiple options when it comes to choosing schools.

However, this also means that there are no plans to build any new schools in the area, according to the URA Master Plan.

Just take note that this BTO will be in the middle of 2 schools, which means you'll probably get double the alarm ring at 7.30am when it's time to gather at the parade square.

Rating - ⭐⭐⭐
The amenities in Toa Payoh are tailored towards the older residents in the area, but that won't mean it'll be impractical for younger people looking to stay here.

This BTO will be within walking distance of at least 4 food Markets & Food Centre, offering a huge plethora of dining and grocery options. Furthermore, there are other eateries in the Toa Payoh area to explore. There's also 3 different Community Clubs in the area for those who are interested in taking up courses.

However, that's really about it. In my opinion, the amenities in this area is top notch for everyday-living. But if you're craving for shopping and leisure needs, it's the location of this BTO that will allow you to access such amenities elsewhere.

Healthcare wise, Toa Payoh Polyclinic is less than a 10 minute walk away, and Tan Tock Seng Hospital is less than a 10 minute drive away.
If you're neurotic like me and think everything is a competition and want to know if this BTO will be the most "value"/"worth it", this may be useful for you.

When it comes to looking at when's the best time to sell your house for maximum profit, the core concept here is the Minimum Occupation Period (MOP).
Simply put, when you buy a house, you need to stay in it for at least 5 years before you can sell it.
This one Gahmen say one

Obligatory disclaimer, everything written below is completely my own opinion.

Here's what I think the BTO lifespan for the Toa Payoh BTO will look like.
Upside - ⭐⭐⭐⭐
Like most people would have expected, the graph shows a really high and long-lasting period of profits for Toa Payoh. However, there may be a period where the youth of this BTO will prove to be the new kid on the block.

Before I go into that,
the first rise in #1 is common in all BTOs.
Since it's subsidized public housing, it starts below market price, then slowly gravitates towards the market value after 5 years.

In Area X, prices are predicted to reach quite high.
This is again, due to the location and development of Toa Payoh. For most of it, prices will remain around the same range. However, there may be a small window that prices might soar a little because of it being the youngest block.

What do I mean?
Here's a current map of all the HDB projects in this area.
In the middle is the upcoming BTO in May, with the (TOP date) below it, as it is for all the other projects in the area.
TOP = Temporary Occupation Permit, aka the earliest you can move into the unit, aka the start of the 99-year lease.

As the picture indicates, this upcoming BTO will be surrounded by numerous old(er) blocks, dating as far back as 1969. This would put their remaining lease at about 40 years when this BTO is completed, and at about 35 years when this BTO reaches MOP.
Between the units that have been around since Singapore's independence, versus a new batch of units, buyers will definitely tend to purchase the newer flats because it looks nicer, and doesn't have a dying, zero-return lease.

This is why I think there might be a small rise during year 25-40. While we can't foresee exactly when and how long it'll last, we can narrow this this rise down to a smaller period in the BTO lifespan.
There is also strong evidence that past sales in the area have a positive price trajectory.

Given that Toa Payoh Apex only has its MOP beginning in 2023, the next closest option to see if the 24-year-old Toa Payoh Court. Despite its relative older age, data has shown that prices for units in this block are still increasing.

In fact, over the past 12 months, $/sqft have risen 10%.

Lastly, the regression in #2 is the slow decline that every HDB unit faces as it winds down to the end of its 99-year lease.
Too long ; didn't read
Summary:
15/20⭐
Mature estates are the majority in this launch, and with the rarer apperances from Tiong Bahru and Buona Vista, this Toa Payoh sale might go under the rader, despite it being in prime location.
Only small gribe is that very limited units are available, with only 380.