Alot of things have changed since I last saw you.

Mask-wearing is now optional, karaokes/clubs are opening right as I'm writing this article, and 'Pasar Malam' were the 2 words I'd never thought I'd hear again.

Just a shoutout to you for sticking through the tumultuous times, but you know HDB and ya' boi don't sleep despite the hardship, so here's the May'22 BTO Guide for Yishun.
---

Before we begin,

If you're new here, we have a completely subjective, completely frivolous rating system,
it's just to help you make a better comparison between the different sales in this launch.

⭐⭐⭐⭐⭐ = good
⭐ = not as good

Again, it's completely up to the individual.
If I give education 5⭐ and you don't plan to have kids, it won't matter right?

🎙️ We run a weekly podcast where we talk about property concepts/news/jargon, and give tips for owning a house in Singapore.

📜 We also have a telegram channel because that's where all the cool kids are.

Follow us if you enjoy our content and a massive gamxia to you in advance.
---
Guides for the other sites in this May'22 BTO launch,
➡️Bukit Merah
➡️Jurong West
➡️Queenstown
➡️Toa Payoh

Content Page
Yishun May'22
Units Available
Price Breakdown
Transport
Education
Amenities
How much can you earn if you sell this BTO?
Too long ; didn't read

Coming right off Grove Spring @ Yishun and Yishun Boardwalk, this May sale offers a site that's completely different from its predecessor.
Compared to Feb'22 kampungs that were on the outskirts of Sungei Bongsu, the upcoming Yishun launch will be in the heart of Yishun itself.

(In fact, this area is so much more developed and contrasting than the Yishun launch in Feb'22 that HDB doesn't recognize the Feb launch as part of Yishun)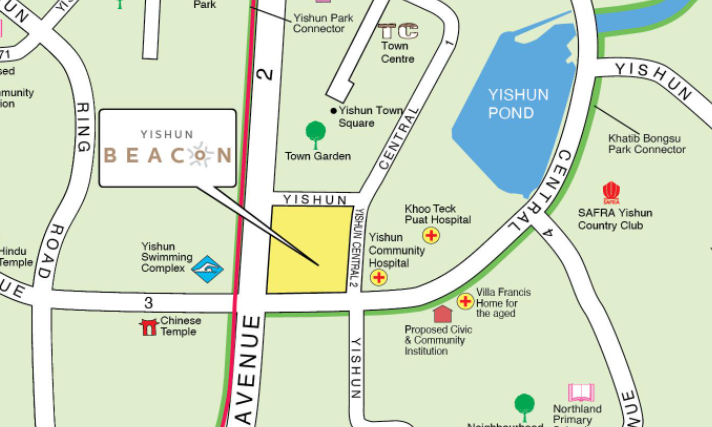 BTO Name Prediction: North Park @ Yishun
Actual name: Yishun Beacon
There are a total of 640 units available, consisting of 2-rm flexis, 4-rms & 5-rms.
This Yishun BTO will just be 1 of 2 sales this launch that offer 5 room units.

A thing to take note is the plot ratio for this lot is 3.0.

This means that this lot is able to handle blocks with more than 36 storeys.
Whether or not a block that high will be built in Yishun remains to be seen, but I'm just saying that the neighbouring plots with similar plot ratios are only twelve storeys, so you might not wanna have too high of expectations.
Rooms
Past Sale(s):

Grove Spring @ Yishun

Yishun Boardwalk
Estimated Price for May'22 launch
Official Price
(Excluding Grants)

2 room flexi (Type I)
$102,000 - $121,000

$95,000 - $126,000



$182,000 - $204,000

$123,000 - $144,000

2 room flexi (Type II)
$118,000 - $145,000

$122,000 - $149,000


$203,000 - $289,000

$144,000 - $184,000

4 room
$270,000 - $362,000

$276,000 - $374,000


$305,000 - $432,000

$328,000 - $418,000

5 room
$385,000 - $385,000

$410,000 - $490,000


$442,000 - $532,000

$485,000 - $595,000
Rooms
Price
HDB Loan (@2.6%)
Bank Loan (@1.5%)
2 room flexi (Type I)
$144,000
Min. Downpayment of $21,600

Monthly Installments of $555
-
2 room flexi (Type II)
$184,000
Min. Downpayment of $27,600

Monthly Installments of $710
-
4 room
$418,000
Min. Downpayment of $62,700

Monthly Installments of $1,612
Min. Downpayment of $104,500

Monthly Installments of $1,082
5 room
$595,000
Min. Downpayment of $89,250

Monthly Installments of $2,294
Min. Downpayment of $148,750

Monthly Installments of $1,745


Prices used were the highest amount predicted
15% Downpayment was used for HDB loans, for a max of 25 years
25% Downpayment was used for Bank loans, for a max of 30 years
Bank loans were excluded for 2-rm flexis since banks don't commonly finance 2-rms


Back to top

MRT - 10 mins walk to Khatib and Yishun MRT Station
Bus - 3 mins walk to bus stop, 8 mins walk to bus interchange
Drive - 5 mins away from SLE

Rating - ⭐⭐⭐⭐

Transport is on the winning end for this BTO because the blocks will be located in between 2 MRT stations. It's relatively connected, with the Circle and Thompson Line just being less than 5 stops away. The only real downside is that both MRT stations are of the same line, and there's the dreaded Khatib-YCK trip that will always make you question why you decided to take the train.

Thankfully, the bus aspect trumps the train service. Not only will you be near the bus interchange, but you'll also be right beside a bus stop that serves even more bus routes, specifically the straight buses to Tampines and Changi Airport.

If you have a vehicle, you're a 5 minute ride away from the SLE, which connects you to the TPE, CTE and BKE.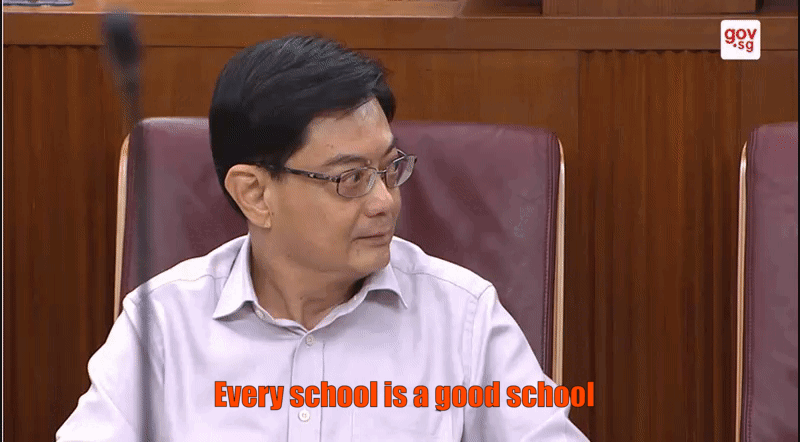 Rating - ⭐⭐⭐⭐

Given that Yishun is the 5th most populated town in Singapore, it's not really a surprise that there are close to 20 schools in Yishun itself.

If you're not a believer of the gif above, you may be glad to hear that there are 2 primary schools in Yishun that are near the top-20 in Singapore - Chongfu (#19) and Northland (#21), the latter of which is about a 5 minute walk away. Chung Cheng High (Yishun) is also ranked #11 for secondary schools.

There is also an abundance of childcares/secondary/tertiary institutions, with the furthest just being a stop away in Nanyang Poly and ITE College Central.

However, with the spread of schools in the area, it makes it more difficult for new schools to be built. Hence, Yishun does not have any current plans to expand on the education facilities, according to the URA Master Plan.

Rating - ⭐⭐⭐⭐

Look, it's no Ion Orchard but the amenities in the area have everything you could possibly need.

For shopping needs, there are neighbourhood shopping malls such as Junction 9 and Wisteria Mall. For anything more than that, Northpoint City has you covered (trust me on that because as someone who has lived in Yishun for 26 years, I still get lost in that damn mall).

Plus, it's reported that there will be a Don Don Donki outlet opening in Northpoint.

For healthcare needs, this BTO will be right beside Yishun Community Hospital and Khoo Teck Puat Hospital (you may have to get used to the ambulance sirens). There's also Yishun Polyclinic, and the upcoming Khatib Polyclinic, both of which are just down the road from this BTO.

For leisure needs, the most notable amenity would be SAFRA Yishun, which has all the usual activities that a SAFRA would offer. If you wanna swim but you're not up for taking a 5 minute walk to SAFRA, Yishun Swimming Complex is right opposite this BTO. Travel a bit further out and there's ORTO for prawning, paintball and boat noodles that everyone secretly doesn't like but still goes to anyway. And lastly, HomeTeamNS Khatib which features an indoor adventure hub.
If you're neurotic like me and think everything is a competition and want to know if this BTO will be the most "value"/"worth it", this may be useful for you.

When it comes to looking at when's the best time to sell your house for maximum profit, the core concept here is the Minimum Occupation Period (MOP).
Simply put, when you buy a house, you need to stay in it for at least 5 years before you can sell it.
This one Gahmen say one

Obligatory disclaimer, everything written below is completely my own opinion.

Here's what I think the BTO lifespan for the Yishun BTO will look like.
Upside - ⭐⭐⭐
As much as Singaporeans think that Yishun is the ghetto, it's actually one of the most developed towns in this nation, which is also the very reason why upside is just average.

The first rise in #1 is common in all BTOs.
Since it's subsidized public housing, it starts below market price, then slowly gravitates towards the market value after 5 years.

In Area X, prices will increase from year 0 but don't expect too much of a rise within this period.
As mentioned above, the amenities around this area of Yishun have already been developed. Yishun Swimming Complex, Northpoint City and KTP Hospital are all in the close vicinity, with the latter 2 being only recently renovated/constructed, aka they should not have any plans to re-develop it.
Having said this, it is very likely that the stagnancy of development in this area will lead to a likewise stagnant price, as compared to the potential volatility of the Feb'22 Yishun sale.

However, just because it's stagnant, doesn't mean it will be low.
The speculated initial price for this May's BTO is already much higher than Feb's BTO, given that the location for this sale is much more accessible and convenient, and the proximity is closer to the heartland amenities.
It's more of a "buy-high, stay-high" than a "buy low, chance to go-high", which basically offers more security and flexibility to sell in the future.

Lastly, the regression in #2 is the slow decline that every HDB unit faces as it winds down to the end of its 99-year lease.
Too long ; didn't read
Summary:
15/20⭐
Despite its notoriety, Yishun is a popular town among people, with HDB units even reaching $1 million (check out ep. 39 of Hows 2 House). This BTO offers a central location, it being near public transporation, while having heartland amenities. Furthermore, it'll offer 5-room units, ideal for families who want/need the space.